The Step and Repeat has subtly slipped into all of our lives. It's pervasive, direct, and affects us on many small levels. Sounds scary, right? For those not in the know, a Step and Repeat is the banner of specifically spaced ads behind celebrities at any red carpet event. Those strafing Gold Men at the Oscar's? The NFL logo emblazoned a thousand times behind speakers at the SuperBowl? The names of countless Silicon Valley companies printed inside their logos during Tech Disrupt? That's the Step and Repeat.
The Step and Repeat is quiet because it has been there since the '70s, and is one of the more passive forms of marketing. Less obtrusive than a Spotify ad, which disrupts your down-tempo Yoga session, the Step and Repeat is more like an image your brain recognizes without ever really acknowledging it. Now that you have acknowledged it (while else are you here?), it would be helpful to know what makes up a Step and Repeat.
I'll list the major components of a Step and Repeat below, and keep in mind that most of these are provided entirely by the manufacturer. These can cost a good chunk of change, too — but that's part of the advertising world, the celebrity world, and the fashion world.
1. The Banner
The banner is the most important part of a Step and Repeat. It is, in essence, the long strip of fabric on which the logos are printed. The banner is what gets seen during live Red Carpet events, and it is the material that's most visible in photographs. As such, it is paramount that the banner looks great.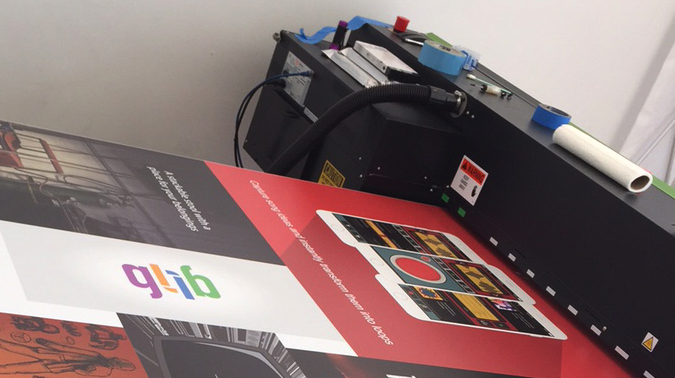 A combination of factors go into the banner to achieve that greatness.
Banner Material
The first and most important is what type of material is used for the banner. Each Step and Repeat will be manufactured by a company, and that company will use different types of material to print the logos on. There are two main types of material used by Step and Repeat companies: vinyl and stretchy fabric.
Vinyl
In the Step and Repeat world there are many levels of class when it comes to manufacturers — some produce extremely high quality Step and Repeats used at world-famous events, others source the cheapest materials possible for rush jobs and last minute events. Vinyl is used in both scenarios, and on the whole is more widely used in the Step and Repeat industry. This is because vinyl is much easier to print on and is generally easier to work with, which makes it a primary choice for bother consumers and manufacturers.
However, the quality of said vinyl changes depending on the level of the manufacturer. There are very cheap vinyls that let light through, show background shadows, produce tons of glare when photographed, and feel thin to the touch. You will pay less for these, but the banners will also rip more easily. If you need a Step and Repeat for a nice event, don't skimp on vinyl quality.
On the flip side, high quality vinyl is used by high quality manufacturers. You'll get what you pay for in this industry. The nice vinyl doesn't have any of the issues mentioned above — there are no wrinkles, the vinyl itself is either thick or plastered onto a firm wall (se below), and it maintains a sharp image no matter what kind of lightning is employed.
Vinyl will probably be the type you end up using. Try to feel the material before purchasing, or at least see pictures of finished products.
Stretchy Fabric
Stretchy fabric tends to be a more unique resource, and it's only available at the higher-end. It typically requires a different print machine and process, so not every manufacturer will have the stretchy fabric available.
If the manufacturer is capable of procuring and printing on the stretchy fabric, it does have a couple advantages. The most important is how easy it is to store. Vinyl is essentially sheets of nice paper that can't be folded. Stretchy fabric is more like cloth, and can be stuffed into a bag for easy transportation. Yes, there will be wrinkles after unfolding, but the manufacturer should provide plenty of rigging so that the fabric is stretched completely taut when set up, which will eliminate all wrinkles.
Another benefit to the stretchy fabric is how natural it looks in photographs. Vinyl tends to be sharp and bright; this fabric is more natural, and will never have glare.
Ink Quality
I'll get into the specifics of logo quality below; this has more do with the manufacturer's ink printing ability, and how much you want your Step and Repeat logos to pop on the big day. Similar to the banner material, ink has a range of qualities that all depend on the manufacturer. Typically a manufacturer will have one type of ink process, not many. This means that the higher up you go on the Step and Repeat ladder (in terms of cost), the better the ink quality will be.
Most manufacturers will use four color printers, which are typically fine. Six color printing is the cream of the crop — the extra colors will make sure the logos are bold. You'll also need to consider the speed at which they print — if they offer super fast printing, you might end up with a poor looking design due to banding, which is when small lines appear in the image.
2. The Logo
Ink quality will make sure your logo looks good — but, of course, you need to have a rocking, bold logo in the first place. The logo on the Step and Repeat is maybe more important than the banner — it's a bit like the chicken and the egg. Without the banner there would be nothing; without the logo there would be no industry to support the banner.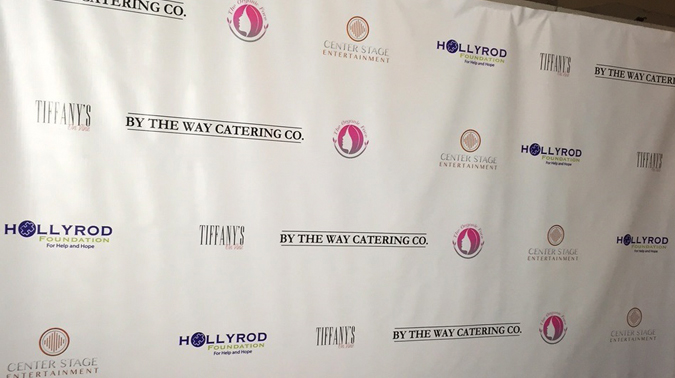 Logos are the bread and butter of any Step and Repeat because they are straight up advertising. If you're hosting an event and want more funds, consider setting up a Step and Repeat area. You can take bids for ad space from local or related companies while increasing the spectacle of your event.
If you don't want to advertise for someone else, the logo will still work for your own brand or event. Use the logo of the company, or have one designed. You can throw in a hashtag campaign these days under the newly-minted design and, just like that, you have a easy, photographable social media campaign.
Technically speaking, the logo does need to be in specific formats for your Step and Repeat manufacturer. As a rule of thumb, check (and double check) with the manufacturer to see what file type and size of logo they want. Many will want vector based files, like Vector Outline EPS, or Adobe Illustrator files. These allow scaling without limitations. You can also typically use JPEGs and PDFs as well, but they should be submitted with very high resolution so the manufacturer can scale them as needed.
After creating or procuring your logos and submitting them, you will need to decide on a Step and Repeat pattern. This is one of the sources for the odd name Step and Repeat. The digital process of creating this diagonally-based pattern is called step and repeats by graphic designers, too. Many manufacturers have basic patterns you can choose from: same-size logos in a straight row, same-size logos set diagonally, two logos in different sizes, etc.
Higher end manufacturers will also work on a custom pattern.
3. The Stand
A banner without a stand is just a loose piece of paper blowing away with the wind. Most manufacturers have stands for rent or purchase. The banners themselves are exclusively for purchase (renting a custom banner doesn't work for the manufacturers), so getting a stand to go with it is not a terrible idea. Renting also works, but will require re-renting if you ever want to use that Step and Repeat again (which many companies do).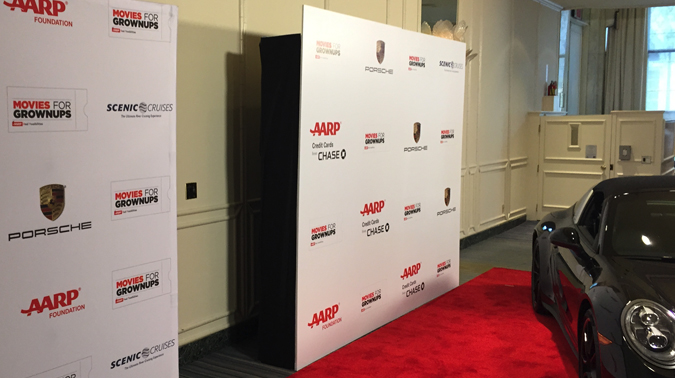 Stands typically come in two different types, though there are many versions of those two types.
Pipe-and-Drape Stand
The first type is more old-school, not as nice, and definitely cheaper. This is the pipe-and-drape system, in which two generic stands (of various materials) are connect via one pole. The vinyl or cloth banner is hung under the pole and tied off to the sides of the stand. There are cheap version of this, like the stands that don't ever get the material taut or have awkward gaps showing around the edges. There are also high-end versions of this stand in which multiple pieces are provided, all of which screw together and then assemble into a firm, stable structure.
The pipe-and-drape system is nice because it typically breaks down easily into smaller pieces and is therefore transportable without too much issue. This often means you can set it up yourself, a factor we'll get into below.
The disadvantages are that the banner has nothing to press up against. While stretching it taut via the four corners and edges of the stand are possible, without a firm backdrop there is always a chance for ripples, wrinkles, or error of some kind. It's also more likely to get backlit if your event is outside or lit by powerful lights.
Media Wall
A media wall is actually another name for a Step and Repeat, and it's so named for the literal wall that is built. The jargon is often interchangeable, so don't worry about it. Just know that the media wall will mean a wall, which means a very firm, smooth, reliable surface and structure at your event.
Often manufacturers will not sell a media wall to you, but rather construct one for you. This means they'll need to be there on the day of or days before the event to help set up, which typically means more money on your end.
All of this cost comes with unrivaled excellence in presentation. Media walls are constructed in many different ways — in fact, companies pride and sell themselves on the unique methods of their media walls — but all of them use some type of hard panel surface and sturdy beams to create a rigid structure. The hard panel surface is often a plastic foam-core material that vinyl is pressed onto with glue. Again, this is done by the manufacturer, and results in a gapless, rigid design perfect for large events with milling crowds and tons of photographers.
Note that media walls are used for the most popular Red Carpet events, like the Oscar's and Grammys. They are full-blown structures themselves, and if you didn't know you might think they were part of the building. Such is the purpose of a media wall.
4. Step and Repeat Size
With the types of stands out of the way, it's important to note the size of these things. Step and Repeats are typically ordered 8 feet high. The length is determined by how many people will need to be photographed at once in front of the Step and Repeat. The smallest lengths are typically 4 feet, while the longest ones are over 100 feet. A 4 foot Step and Repeat will usually fit two people standing close together For sports events it's usually best to order a 10 foot high Step and Repeat, just to make sure the athletes are always surrounded by those ads.
As you can maybe guess, the longer Step and Repeats are typically media walls, while the shorter ones are often pipe-and-drape stands. This is not always the case, but many people with a simple 8' by 4' Step and Repeat don't need a super sturdy wall constructed.
5. The Extra Goodies
The previous four steps constitute the basics of a Step and Repeat. The information should set you and your company on the right path, but it's important to note that the Step and Repeat is typically just one factor in a larger event. Very few people go around ordering these to be set up in the office for casual use.
Red carpet, invitations, a guest list, photographs, a podium or microphone, and food are all usually hovering around the Step and Repeat. Make sure each of these components of your event is taken care of in addition to this photography advert platform.