Ah… the glamour and sophistication of the red carpet is almost irresistible. A red carpet event is usually thought of as formal occasion featuring celebrities, famous sports heroes, fashion models, well-known politicians or heads of state. Renowned red carpet events include the Oscars, movie premiers, sporting awards ceremonies, the Emmys, Grammys and more.
The truth is a red carpet event can celebrate any occasion whether you are a multimillionaire, a Fortune 500 Company or John Doe from down the street.
But how do they do it? How do the people behind the scenes throw a perfect red carpet event? Here is a small peak behind the curtains.
Yes! You Can Throw Your Own Red Carpet Event
It was always believed that the closest most of us would ever come to a red carpet is to be curled up on our couches in our comfortable sweatpants and snacking on chips while watching others glide down the red runner is high-class fashion and jewelry. Traditionally, the red carpet is used to a few people with privileged treatment. Customarily, the red carpet is only rolled out for distinguished visitors to walk on when they first arrive at a high-class event.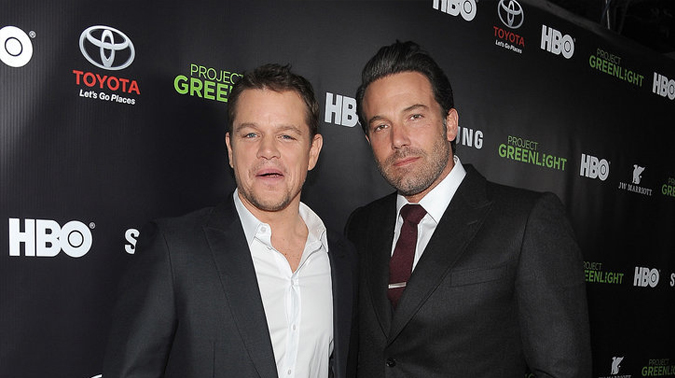 But these days, even ordinary people like you and I, can create our own red carpet-themed party. All it takes is with planning and helpful tips from the "experts."
Whether you are hosting an Oscar night viewing party, a red carpet anniversary event, a sweet sixteen fashion shoe or a milestone birthday celebration, there are a few details that will separate a red carpet party from all others and make the occasion memorable for everyone who attends.
The Invitation
The guest list is only limited by your budget and your venue. A red carpet can include a 300 person wedding in a ballroom or a graduation party with two dozen buddies in your backyard.
First, decide whether you want send your invitation sent by email or snail mail or simply make a few phone calls. Just remember a proper invitation should always include the start time, location, special dress code and if it involves lunch or dinner or just a light snack.
Companies such as as Evite can design, track, follow-up and send your red carpet invitations on just about any budget. Pre-printed invitations that are mailed for red carpet parties more formal and more expensive. But printed invitations allow you to get very creative with your invitations. The invite can be shaped like a golden star or film canisters or even a spotlight. Inside the envelope, sprinkle confetti, or, even better, tiny metallic stars, which are widely available at party stores.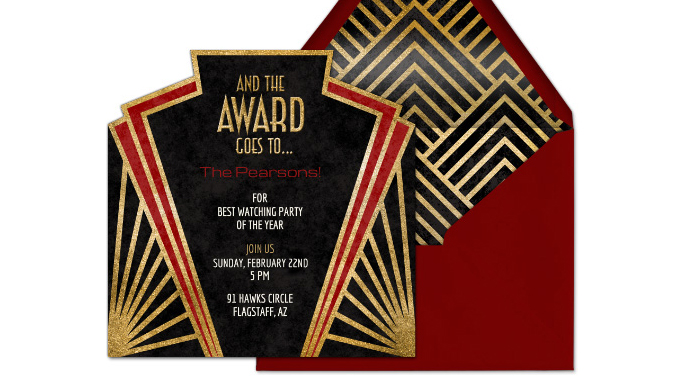 If finances are a concern, simply pick up the phone and personally extend the invitation to your red carpet party, including all the pertinent 411.
The Dress Code
Red carpet events have always focused on fashion. Your party should, too. You can make it a black tie event, with men expected to arrive in tuxedos and women in sparkly high-end gowns. Or you can request your guests to come dressed as their favorite movie actors and actresses. If you want to have a more casual attire at your party, opt for Western wear or even pajamas. The theme is completely up to you.
People are always intrigued by the fashion on the red carpet so make this a focal part of your red carpet bash. There will hundreds of photos take at your red carpet event and photos have a very long life on social media. So be sure you choose a dress code that you are comfortable in and won't mind seeing over and over again.
The Red Carpet
Naturally, a red carpet event needs an actual red carpet! The red carpet should be as long as possible for your guests to strut down the length of it in style. Roll the carpet out as far as it will reach from the entry to the event entrance.
If you're throwing the party at your house, run the carpet all the way from the curb to the doorway
If your party takes place at a rented venue like a luxury hotel ballroom or theater, have the length be as extensive as possible for added drama to the beginning of the party.
To make the walk extra special, rent velvet ropes and posts (stanchions) to place on either side of the carpet. Of course, every red carpet includes paparazzi frenzy. Flashing camera bulbs and pushy people behind the ropes will add to the fun. (A quick tip: Twinkling lights make it look like the paparazzi are snapping away).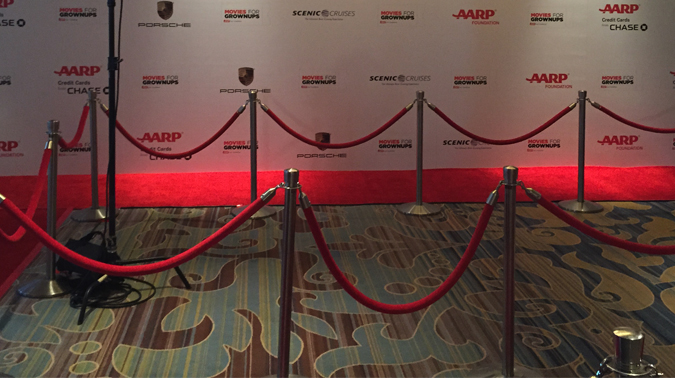 Adding a couple of burly men to act as security guards to "protect" your guests from the should be adorned in back suits and dark sunglasses for maximum intimidation.
To make the occasion start with a smile, have a "celebrity look-alike act as red carpet interviewer. The interviewer can be dressed as Joan Rivers or Ryan Seacrest. Then have a way to record "interviews" as your guests walk down toward the party entrance, just like on televised red carpet events. If you record these encounters, you can post the videos on YouTube or put together a DVD for lots of laughs after the party.
Step and Repeat
Naturally, every red carpet requires a Step and Repeat banner. What is a Step and Repeat you may ask? It is that eye-catching backdrop with slogans or logos. It is the locale where celebrities stand to get their dazzling photos taken at just about every red carpet event. The purpose of a step and repeat is to capture noteworthy or celebrity individuals with sponsor logos behind them.
These days, anyone can create their own red carpet experience with a Step and Repeat banner. In fact, just about everyone who wants to can add a personalized, custom-printed Step and Repeat wall for their engagement party, sweet sixteen, birthday celebration, anniversary party or any special occasion in order to provide a "celebrity-like" ambiance.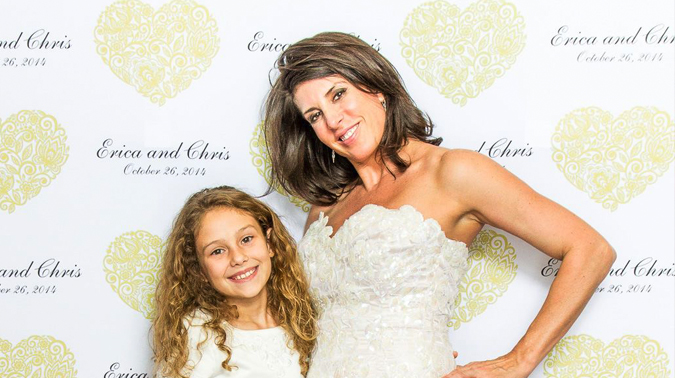 Step and Repeat backdrops come in all sizes, colors and layouts.
Is your party a pretty in pink theme? Then a logo stamped pink Step and Repeat banner will take your event to the next level.
Do you believe you are a superhero? Then a custom logo of you with a cape is absolutely feasible to print on a Step and Repeat banner.
Are you a want-to-be famous basketball player? Then an emblem with a hoop can easily be designed for your special occasion.
Party planners regularly add red carpet flair to birthday parties by adding a Step and Repeat backdrop. This allows guests a unique and fun opportunity to have their pictures taken with a custom background to commemorate the special day.
At your red carpet event, your guests will be photographed against a Step and Repeat wall that features a vivid color graphic showing the event name (Happy Birthday, John! or Class of 2020 or Happy New Year 2017). Each guest will feel like a superstar when they are asked to pause and pose in front of your original vibrant, patterned backdrop and then see their "celebrity photo" posted on your social media site.
Red Carpet Décor
To create a fun atmosphere you can energize the space with star-shaped helium balloons. Use lots of gold accents inside the party such as metallic ribbons and streamers. If you feel adventurous, you can place cardboard cutouts of famous celebrities or sports stars around the area which make for fun photo opportunities. And include a life-size cutout of the person being honored as well!
If your dinner is a sit-down affair, sprinkle the tables with metallic star confetti, and film strips, imitation Oscar statues or Mardi Gras beads draped over giant champagne glasses for a touch of sparkle. Finally, if the venue allows, decorate the walls with posters of your red carpet event theme.
Food and Drink
After they've walked the carpet, greet your guests a flute of champagne (or sparkling water). For extra ambiance, rent a champagne fountain so guests can help themselves.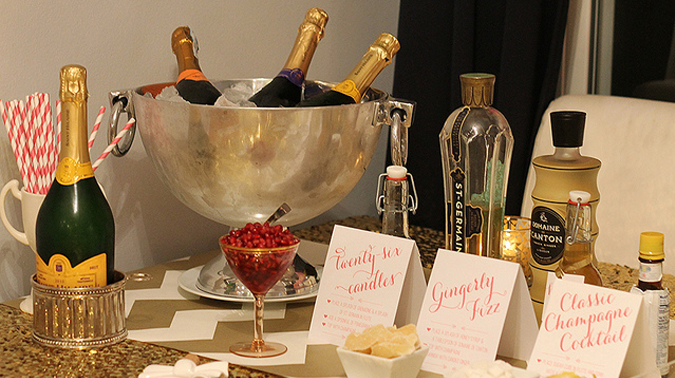 If this is an Oscar viewing party, you have to fill three (or more) hours with food and drink. A buffet or loads (and loads) of easy-to-handle hors d'oeuvres are a good plan.
Individual lobster mac & cheese balls are a special upgrade to any event
Grilled chicken, beef or shrimp on skewer is something any cook can easily prepare without having to be in the chicken the entire duration of the party
Desserts can include simple to make star-shaped or

 

Oscar award shaped

 

sugar cookies
Think about having celebrity type drinks like 007's signature "Vodka martini, shaken, not stirred" to add to the theme
Plastic gold utensils, plates and gold paper napkins make serving and cleaning up a party simple, even if it doesn't happen at most red carpet events. You can jazz things up by making "bow tie napkins" to spice up your red carpet buffet.
And if the occasion calls for an outside venue or a big blow-out shindig at home, catering is the best option.
Entertainment
If your party is for watching the Oscars broadcast, you really don't require any other entertainment. But you can always include those fun Academy Award games such as Oscar ballot guessing or Oscar Bingo.
One caveat for your Oscar red carpet viewing event or movie premiere or "last television show for Madmen"…just be sure there are plenty of projectors and projection screens around the seating area. Review the layout in advance so that you have enough television monitors and that the sound will be clear. Guests will not be happy if they are unable to see or hear the show you are hosting.
If your red carpet event is not an Oscar night viewing party, you could go all out and hire a DJ to entertain throughout the party. Be sure the venue has ample room for a dance floor or that your outdoor space has a designated area to dance the night away.
Final Touches
What's a red carpet event without SWAG (Stuff We All Get) which are the bags full of goodies that celebrities take home from red carpet events.
SWAG from your own red carpet event allows your guests them to remember a spectacular night. Place the token gifts in a Hollywood-themed gift bag. You can include the photos your took earlier in the evening in front of your Step and Repeat Banner as well as movie passes, mini liquor bottles or simple Oscar shaped chocolates. Your own SWAG bag does not have to be costly.
A Final Thought
A red carpet event is a wonderful theme and walking the red runway is a unique and fabulous way to create a special event. Adding your own unique Step and Repeat background creates a custom entrance to your party that is designed just for you.
Remember, it's just not a not a party without a red carpet!