You may be familiar with the phrase "Rinse, Lather, Repeat." But do you know about "Step and Repeats?"
It is likely you have seen Step and Repeat graphics dozens of times without actually being aware that every day you are subliminally being exposed to logos, graphics and phrases that quietly promote companies, products and brands. You see most of these backdrops while observing your celebrity crushes walking the red carpet.
What IS Step and Repeat?
Some products are exactly what they sound like and that is exactly the case with Step and Repeat.
Step and Repeat refers to a graphic wall that is splashed with a continuous logo of a sponsor or organization. It is used for the purposes of advertising and capturing photos of celebrities, sports heroes and noteworthy people in front of the logo.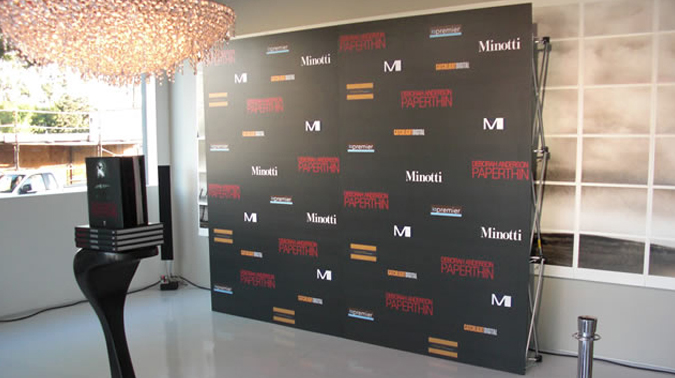 These photos are then plastered all over social media, used in newscasts, magazines, gossip columns and newspapers. By doing this, every photo distributed includes the sponsor's brand in the background and delivers messaging that appears in countless media outlets.
But back to the origin of the name "Step and Repeat:" Most believe this type of promotion comes from two actions:
The first is the action of having the talent "step" onto the red carpet, pose for the photographers and leave, while the next person follows and "repeats" the process.
The second source originates from graphic designers that would create an image and repeat it in Photoshop
The Origins
Step and Repeat banners were originally a unique feature of the Academy Awards® and high fashion events. It is likely you have seen your favorite actor, sport star or political candidate posing in front of these promotional backgrounds.
The Academy Awards are supposed to emphasize the film performances of brilliant actors and actresses. But since the Oscars begin to be awarded over 80 years ago, journalist and fans alike have always been intrigued by the fashion on the red carpet instead of the accomplishments that actually won the golden statues.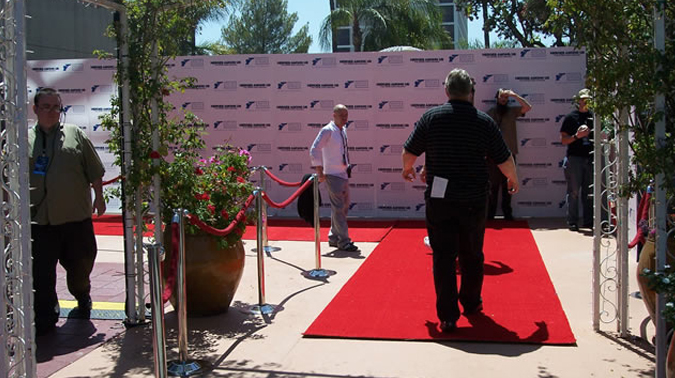 Every year, these fashion fans of all ages fall in love with the sparkly, high-end dresses, admire the men in their dazzling tuxes, and look up what shade of lipstick their favorite actress was wearing as she posed on the red carpet.
The desire to watch and judge what these famous Hollywood stars are wearing is why so many viewers tune into the Academy Awards pre-show. And the pre-show is not enough. As the processional of the Academy Awards wide down, viewers flock to the internet to do image searches for a closer look at the red carpet outfits.
This peep show obsession has been the driving force as to why Step and Repeat banners play such a big role during awards shows. The emblems and logos on these backdrops were seen literally worldwide. Eventually, the Academy of Motion Pictures realized that they should use Step and Repeats of their own logos and ended the majority of sponsorship to emphasize their own brand.
Still, Step and Repeat banners continue to populate the backdrops of a multitude of red carpets. They're what music country starts, tennis stars, business moguls and superstars stop and pose in front of while photographers snap hundreds of photos of them. These eye-catching banners are the ideal backdrops because they attract media attention while also highlighting a brand. Plus they are budget friendly so even the largest events can have multiple step and repeats throughout the pre-party, post-party and special parties.
But not every celebrity is a fan of Step and Repeat. When several different sponsor logos are all placed on one banner, they may compete in color and size. Celebrities are not fond of anything that takes away from their photograph and their attire.
The Next "Step"
As a result of the fame given to Step and Repeats on the red carpet, event planners seized on the idea. Party planners realizes these were a natural fit to attract sponsors for their corporate and charitable events. Step and Repeat banners could be designed with stunning graphics and guarantee supporters that their brand and company name would be seen in every celebrity photo taken at the specific event. It was a strong motivator to have businesses spend their money at sporting events, charity functions and the most popular red carpet events.
Event planners were now able to provide free advertising for any brand and create new media excitement. Gone were the days of relying on the announcer to mention the underwriter who was paying for the party and hope their audience was listening at exactly the right time.
The new pitch was "location, location, location" and all the stops were pulled out to hype up this prime advertising opportunity. Photos taken in front of these branded walls and posted on Facebook or Twitter would often remain in place for months at a time.
No longer are Step and Repeat walls exclusive to the rich and famous. Now just about any individual can add custom-printed step and repeat walls for their weddings, sweet sixteen, anniversary party or any special occasions in order to provide a "celebrity-like" ambiance.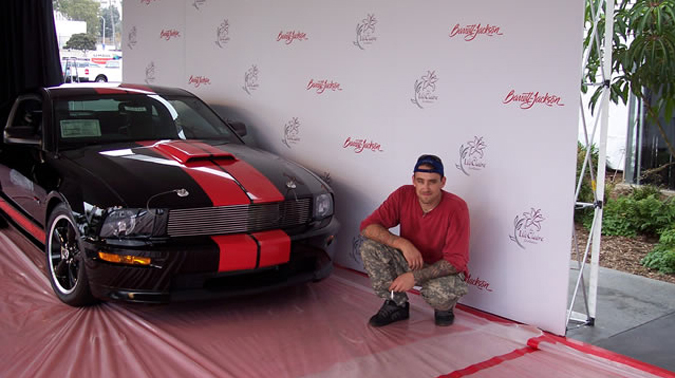 Party planners are regularly adding red carpet flair to birthday parties by adding a step and repeat backdrop. This allows guests a unique and fun opportunity to have their pictures taken with a custom background. And the birthday will be memorable with a custom backdrop helping to commemorate the special day.
Corporate America also jumped on the Step and Repeat bandwagon. Step and Repeats in smaller configurations were perfect and impressive backdrops to a trade show booth or table at conventions. They provided an impactful, portable, reusable and relatively inexpensive backdrop that stood out among the other booths at a show. Now these colorful walls are even used for promotions and catchy slogans to attract people to a booth.
Where They Are Today
Step and Repeat walls are now common fixtures at red carpets, high-society galas, movie premiers, fashion events, press tours and book signings worldwide. In this crowded world of messaging, a brand or product has to find a way to separate itself from the masses and create awareness.
You'll find Step and Repeat walls everywhere from NBC's TODAY morning show to the Grammys to the Super Bowl.
During highly touted events, the party may be inside, but much of the excitement takes place outside. It is the time celebrities spend on the red carpet with flashbulbs popping every second that offers the best opportunity for publicity. Step and Repeat walls and banners are now a spectacular international product placement arena of monumental importance. No matter where the camera is pointed, the same key branding information (sponsor, venue, slogan, etc.) is front and center.
It appears everyone has jumped aboard the Step and Repeat banner. This type of signage that repeats a logo, a theme, a slogan is now commonly found behind the US President, as well as hung behind the press secretary at the daily White House briefing and is used by hopeful political candidates of all parties.
Step and Repeat allows for absolute control over the backdrop for still cameras and footage. It reinforces the keyword or the single bullet and catch phrase the speaker is trying to communicate.
How Do They Do It?
Step and Repeat backdrops are produced in a variety ways. Vinyl, fabric, poster paper, canvas and more are usually secured or stretched onto a hard surface (such as plywood or foam core) or between two specially made, sturdy polls.
Fabric

 

is less likely to have "hotspots" when photographed. This means the fabric will tend to absorb a flash rather than reflecting it and causing distortions in the printed or published shot
Vinyl

 

is heavier duty and may provide brighter and more vibrant images, although you have to be careful that to choose proper ink and lighting to avoid glare
It's important to weight the bottom, and stretch the sides, so it pulls tight and doesn't show wrinkles
Plan to have a light or two shining onto the banner to assure photos and logos appear crisp
There are options for hanging or having it adhered securely onto a hard surface

If you require absolute perfection in your wall, use the hard panel Step and Repeat backdrop
The old-fashioned "pipe and drape" systems aren't perfect and used much less often, but they get the job done and are easy for frequent travel when used in business
A Media Wall is slightly different from a Step and Repeat banner. The two terms can easily be confused since the concept is the same. Both create a background with printed logos or slogans that are used for photographic opportunities at events.
A Media Wall is usually a large, rigid, solid standing wall
Step and Repeat backdrops

 

are usually a smaller size, made out of vinyl banner material, and attached to a banner stand
To Sum It Up
There is no denying the usefulness of Step and Repeat in today's technology and visually driven society. No longer just for the red carpet at the Emmys and Oscars, these backdrops are found everywhere. Celebrities standing in front of these backdrops have become a mainstay in our world. Vibrant, patterned logo backdrops are meant for maximizing brand exposure both at the event and in photographs.
It's all about branding and keeping it simple. We can only imagine that next are 3D, textured and interactive Step and Repeat banners.